Cheese making is often thought of as one of those mythical processes we aren't meant to understand. We go to the store when we need cheese, we buy it, we often spend quite a bit of money on it, and we love it. For the most part we don't really care how it's made or how it got to the supermarket, but something this delicious must require intricate machinery and a complex system of pulleys, levers and switches. The cheese factories surely have moats installed (with crocodiles!) to keep their secrets safe from the general public.
While certain types of cheeses DO require specialized equipment, there are several delicious and popular varieties you can make at home yourself using virtually no special equipment or ingredients you can't find in your local supermarket.
This first type we'll be showing is the simplest of homemade cheeses, a basic fresh white cheese, sometimes called a farmer's cheese. I absolutely guarantee you will be astounded by how simple and delicious this cheese is.
Here's what you'll need:
Ingredients:
1 litre of whole milk (the quality of the cheese is entirely dependant on the quality of milk used, so this would be the time to try that local or organic milk from the farmers market for a few extra bucks)
1 cup of whole buttermilk
2 tsp lemon juice
1 tsp sea salt
Equipment:
– A spatula
– a saucepot
– cheesecloth (available at any supermarket)
– a large mixing bowl
– a colander
– a thermomter
– some string or butchers twine
Seriously. That's it.
Now let's see how it's made, step by step.
Pour the whole milk into the sauce pot, and heat the milk up gently over medium heat, stirring with the spatula frequently to avoid scalding the milk.
Heat the milk until its around 170F, you should see small bubbles forming around the outside of the milk.
Now for the fun part. Turn off the heat completely, and add in the lemon juice and buttermilk. Stir lightly. It will begin to curdle the milk right away!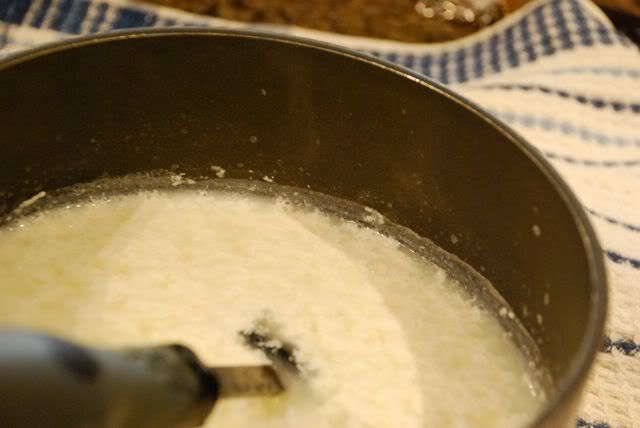 Now let it sit for 10 minutes or so, to let the curds develop and separate from the whey.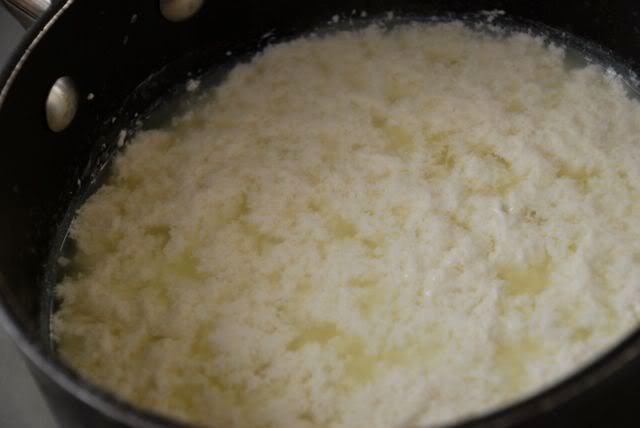 After 10-12 minutes, place a colander into a mixing bowl and line it with cheesecloth. Be sure to use extra cheese cloth, about 3-4 layers.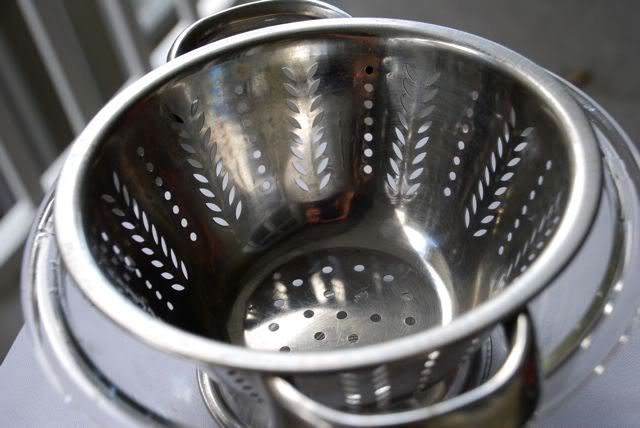 Next, you need to start ladling the fresh cheese curds into the cheesecloth to strain out the excess moisture, do this in batches with a strainer: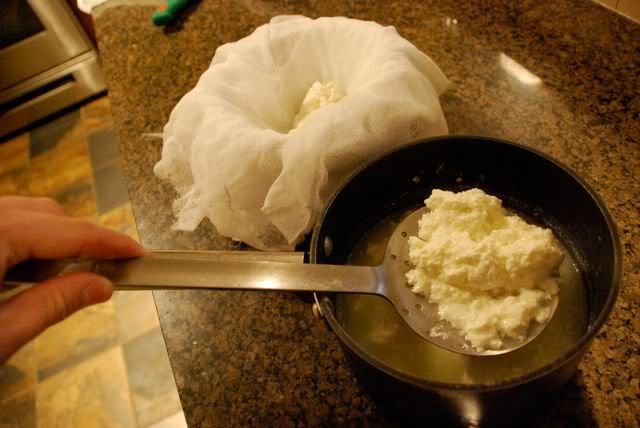 Eventually you'll have what looks like this, fresh, beautiful cheese curds! We just need to drain off the excess moisture now to firm it up.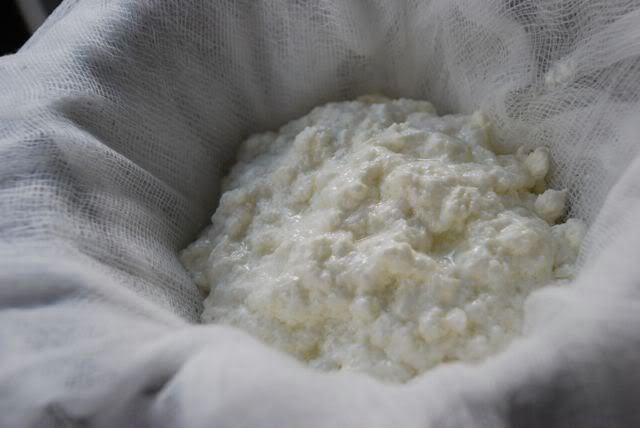 Use some string to tie the cheese cloth together into a tight bundle: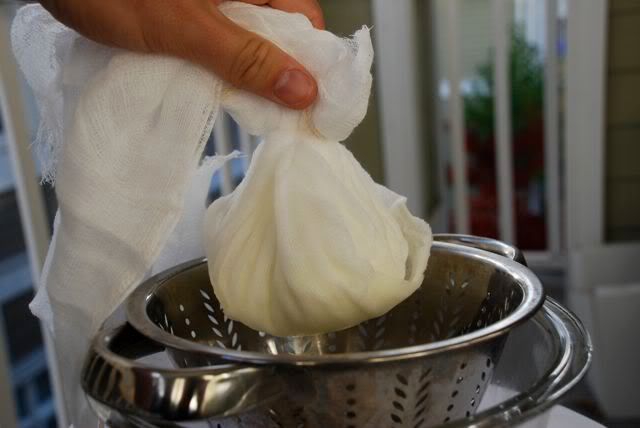 Next, tie the bundle to a wooden spoon or similar utensil and hang it over a deep pot, let it hang for 20-25 minutes to drain out the excess moisture. Also, twist it tight to force some of the excess moisture out of the cheese.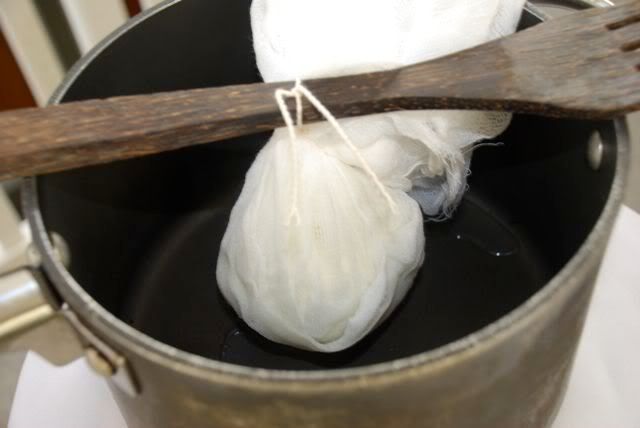 You'll notice all the excess liquid has drained out of the cheese, and it's time to snip that bad boy open and have a look.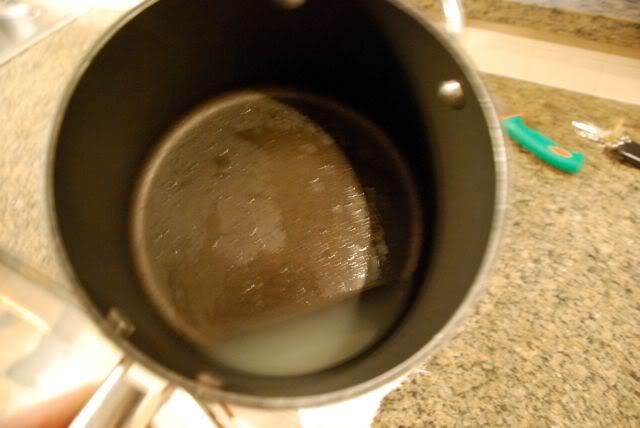 Use scissors to snip off the top and look what's there smiling back up at you:
Next, it needs seasoning. To do this old school, simply use good sea salt, however I like to add some fresh cracked black pepper and finely chopped fresh thyme. You can really get creative with flavourings as this is a very fresh, creamy and neutral cheese.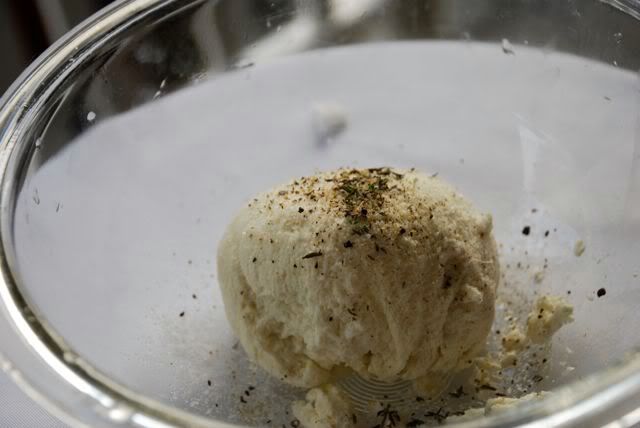 Use a spatula and mix the seasonings into the cheese evenly.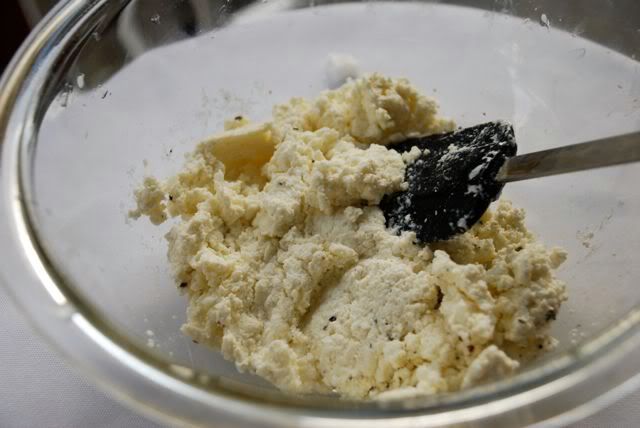 Next, place it into a a couple small ramekins or bowls. I find the lunch pack peaches containers work great 😉
And that's it! Your cheese is done. Place it in the fridge until you're ready to use it. And when you are, unmold it simply and serve it with your favorite mini toasts, crackers, fruits, chutneys, anything your heart can imagine. This is also time to use your very best olive oil to give the cheese a light and fruity accompaniment. I'm partial to some brioche triangles and my childhood favorite, triscuits!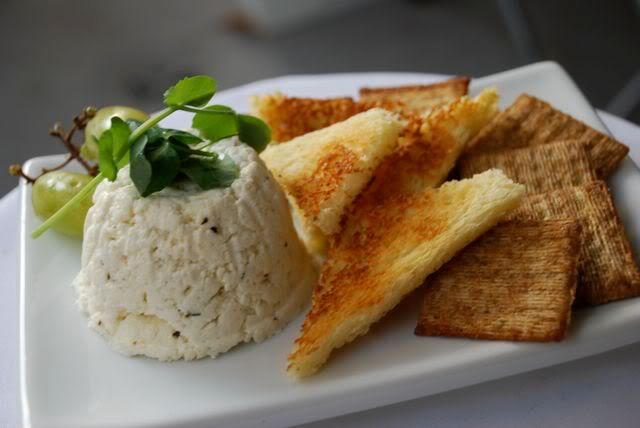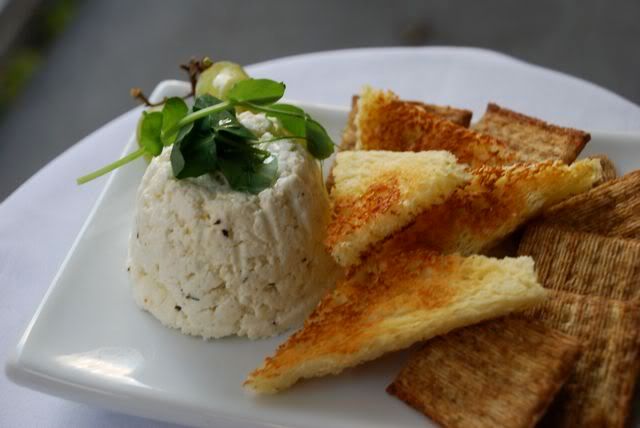 Making this type of cheese is not only ridiculously simple, it's fun too. Make it for your next gathering and nonchalantly drop the old, "Oh that cheese? It IS good isn't it? Yeah I made that, no biggie." Watch your guests' eyes widen with bewilderment as your cheese-making skills become the talk of the party.
Up next? Let's make some mozzarella!