Be honest, how many of you thought "gross, I hate turnips" or something similar when reading that title?
Since we were young, turnips are just one of those vegetables that's gotten a bad rap. It seems almost everyone comes around to enjoy the usual "gross" vegetables from their childhood like broccoli, cauliflower, or green beans, but the lowly turnips, brussel sprouts and beets seem to be the bottom dwellers of the vegetable popularity chart.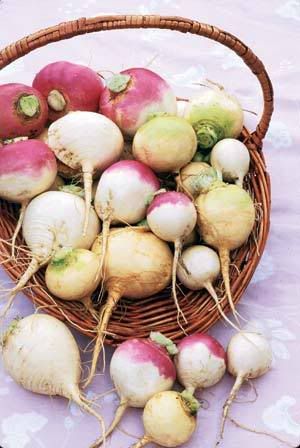 Well, why should you even bother with them? For starters, in this low-carb, eating healthy day and age, turnips are one of the tastiest and best low carb potato substitutes out there. Forget mashed cauliflower, hot mashed turnips have the texture and a similar flavour to everyone's favorite side dish. They are cheap, available all year round, and as you'll see, can be much more than a potato stand-in.
Tip for Picking Turnips:
Look for turnips that are very firm. Turnips are a root vegetable and can have a very slight horseradish/mustard tone to them which some people dislike. However the flavour is not as strong in the very firm turnips as opposed to the softer ones.
Turnip Recipes You'll Love:
In my opinion, these are can't miss recipes even for self-proclaimed turnip haters. 2 ways to prepare them you may not have thought of, including my favorite recipe for the classic mashed turnips.
Bacon Wrapped Turnip Hors D'oeuvres
Ingredients: (Makes 32 hors d'oeuvres)
– 16 thin pieces of smoked bacon, cut in half
– 3-4 large turnips, cut into 1″ wedges
– 2 eggs
– 1 cup panko (regular breadcrumbs work fine)
– Vegetable oil, salt and pepper
In a medium sauce pan, boil turnips in salted water for 6-7 minutes, until slightly softened but not yet fork tender. Remove from water and let cool slightly. Wrap each wedge with a half-slice of bacon. Whisk eggs in a bowl and place panko breadcrumbs in a separate bowl. Meanwhile, heat a heavy-bottomed saute pan with 2-3 tbsp of vegetable oil on medium/high and pre-heat the oven to 350F
Dip the bacon wrapped turnips in the egg first, then in the bread crumbs, and place in saute pan. Once bacon is browned, transfer each to a lined baking sheet, and transfer to the oven for 10-12 minutes, or until turnips are tender.
Drain on a paper towel and wait for people to ask you what's in them!
Best Mashed Turnips
Ingredients: (serves 4)
– 4 large turnips, roughly chopped
– 1 head garlic, roasted
– 1 tbsp butter
– 2 tbsp milk
– 2 tbsp parmiggiano reggiano cheese
– 1 tsp horseradish
– 2 tbsp fresh snipped chives
– salt and fresh cracked pepper to taste
Preparation:
To roast the garlic: Cut the top off the head of garlic, drizzle it with olive oil and place in a 300F oven for 45-50 minutes until soft.
Bring salted water to a boil in a large pot and place in the chopped turnips. Boil for 15-20 minutes or until very tender. Drain turnips and immediately mash in the butter and milk, being careful not to add too much milk. (Turnips will not absorb the milk and butter like potatoes will and you'll end up with turnip soup)
Stir in the horseradish and the roasted garlic, blending well. Just before serving, mix in the chives, parmiggiano reggiano and salt and pepper to taste. The horseradish plays off the turnips natural root flavour, and the cheese and chives balance the flavour with the richness of mashed potatoes, without the carbs. Enjoy and surprise your next guests!