On Nov 15th, CTV posted an article about how local food carts near the Art Gallery were being affected by the Occupy Vancouver movement, stating sales drops of up to 70% and some even going so far as to say they may need to close up shop if there wasn't a change soon (read the full article here):
Well, it wasn't long after posting this article to my twitter feed that some of my fellow tweeps and I started discussing the idea of organizing a tweet up to support them, and the hashtag #supportYVRfoodcarts was born. A blog post by well-known Vancouver blogger @maryinvancity officially started the event and the response was overwhelming. By that night, the hashtag #supportYVRfoodcarts was trending on twitter first in Vancouver, then in Canada! The date was set for Friday, November 18th, and myself and some of the Drew Cooks! staff (along with many others) set out that afternoon with hunger in our bellies and fire in our eyes.
Our goal was to hit not just one food cart, but several (a goal that was met, BIG TIME; the food coma was epic) and we hoped others would do the same. We weren't disappointed. Huge line ups of supporters were at every cart, people were on their phones taking pictures of food, tweeting like crazy inbetween huge bites of delicious street food, and vendors at the carts were all astounded at the outpouring of support. So where did we go first?
One of the most active twitter accounts of the food carts belongs to Re-up BBQ, serving delicious smoked pulled pork, brisket and sides.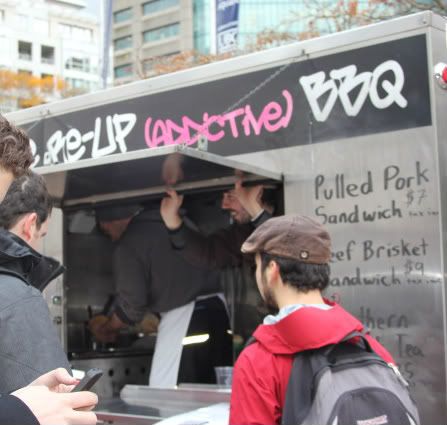 Even though they had to move from their original spot due to Occupy Vancouver, there was a big line up when we got there, and the guys said they had been smokin' busy all day. Great to hear. These guys really took advantage of the #supportYVRfoodcarts event and invited many of their visitors to an event they were planning on Nov 26th in New West.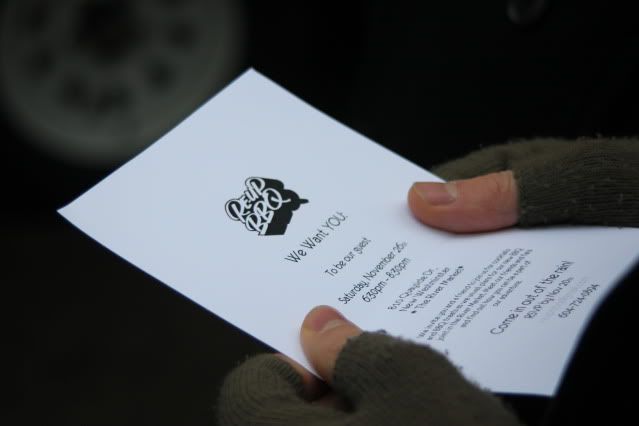 A sucker for good beef brisket, I ordered their brisket sandwich ($9), while some of my colleagues tried their famous pulled pork sandwich ($7). They served it with their tangy coleslaw and a great BBQ sauce that wasn't too sweet and had a nice kick of spice. What could be a better up-sell than a really attractive photo of us eating it? You tell me.
The guys at Re-Up BBQ were awesome, friendly, and had some great recommendations for other food carts to try. Their first pick was Mangal Kiss Mid-East BBQ, showcased here by my posing skills: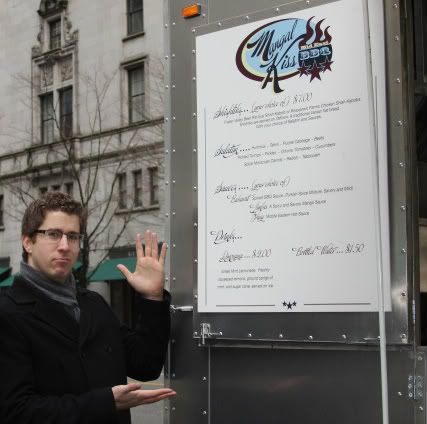 This was another cart featured in the CTV article that had been shifted from its original spot near the Art Gallery and was struggling to find the same volume at its new spot. Yet again we were greeted by a large line-up at Mangal Kiss, which specializes in shishlik wraps (Shishlik is quite simply the practice of grilling meat – sounds fine by me). Where the big difference is for me is the inventive and uber flavourful vegetables and other ingredients they place in their shishlik wraps. Each wrap (choice of beef or chicken) contains:
Hummus, tahini, purple cabbage, beets, pickled turnips, pickles, onions, tomatos, cucumbers, spiced Moroccan carrots, radish, Tabbouleh
It seems like a lot going on, but all I can really say is you need to go down there right now, order it, and take a bite. FLAVOUR. It all works, and it's unlike anything I've tried on the streets of Vancouver to date. Here's what it looks like: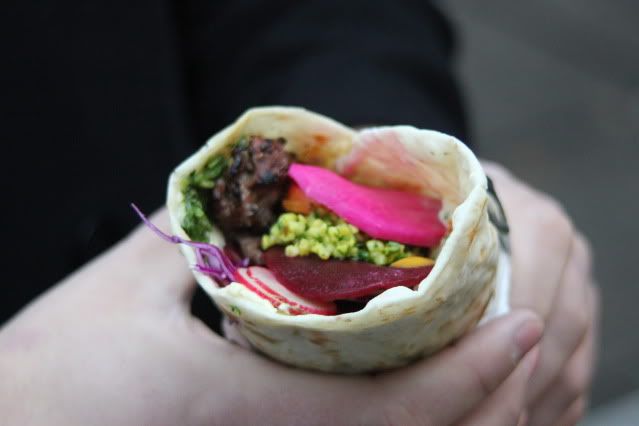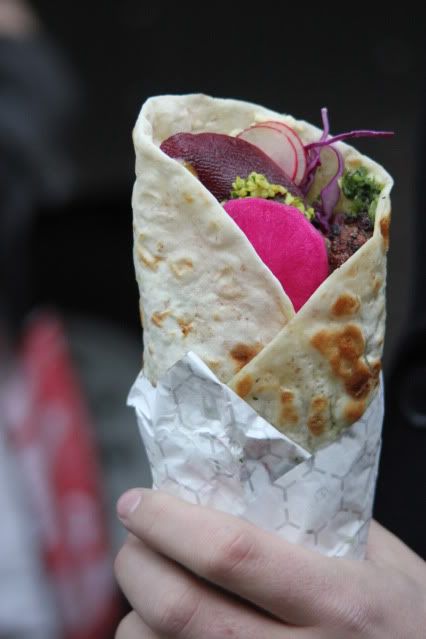 The folks at Mangal Kiss are as nice as can be too, I can't say enough good things about their food. It's a must-try!
________________
If someone had told me that morning I would be eating a huge grilled cheese sandwich out of a paper cone later in the day, I would have called them crazy. Then I would have hugged them. But turns out that is exactly what I was doing at Mom's Grilled Cheese Truck. And look at the line at this one too!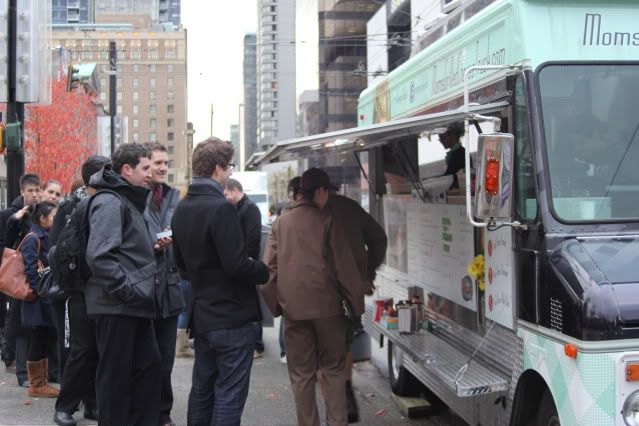 Now, the guys at Re-Up BBQ had recommended the "Jackson 3" which is their triple decker grilled cheese sandwich, with 3 kinds of cheese. They also suggested we get it with bacon added, because they smoke and supply the bacon Mom's grilled cheese truck uses! How cool is that? Despite the fact I've already eaten two large lunches, I threw caution to the wind and ordered it. One of the other guys ordered another of their sandwiches, a "meatloaf" sandwich with marinara and cheese.
Here is Mom herself, working the flat top like a champ while chatting with customers, she's awesome.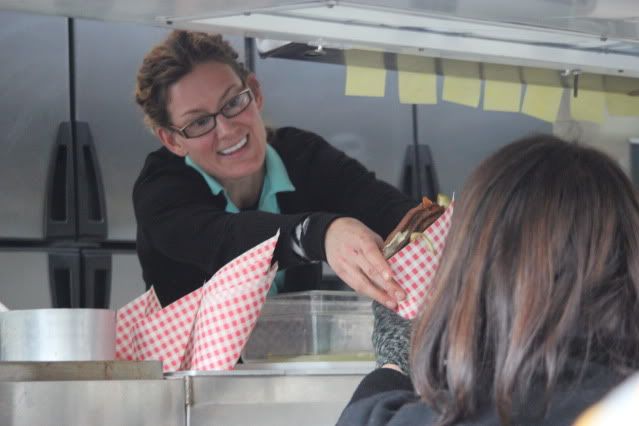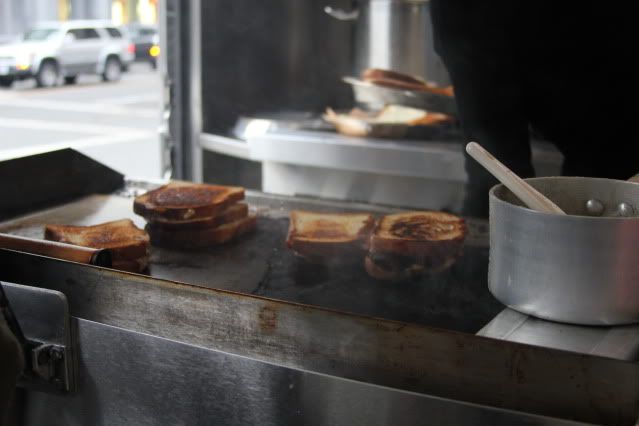 Before long, we all had delicious cheesey sandwiches in our hot little hands.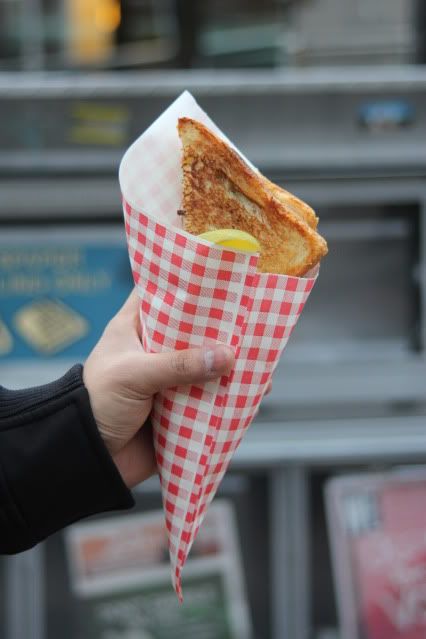 Here's our head bartender Carmond taking a break from photo duties to handle the "Jackson 3" with bacon he ordered: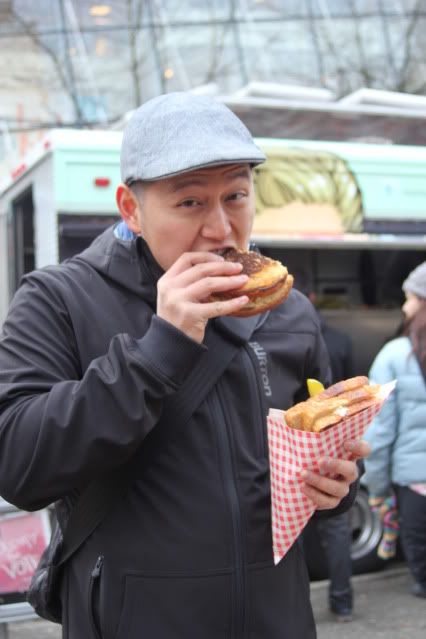 The rest of us looking confused as to how to handle the monstrosities of deliciousness in front of us.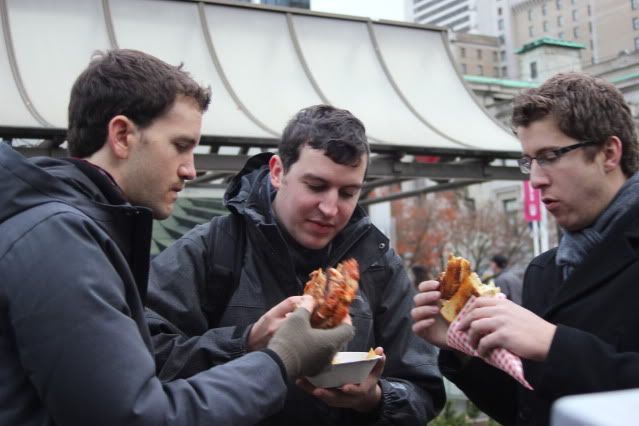 Though they are known for Grilled Cheese (obviously) the Meatloaf sandwich is not to be missed. The beef is incredibly well seasoned and flavourful, the marinara is delicious and the melted provolone on top is perfect. Most of all, go say hi to Mom and let her fill you up right!
___________
Alright, at this point we had hit 3 food carts and eaten 3 large lunches within about an hour, and we were losing the ability to stand under our own power. Though it was wintery out, the meat sweats were imminent. We sat down briefly to compose ourselves and think of our next move, and no sooner did we take a short breather, we received a tweet from a friend of mine and amazing cake artist, Cake Tease saying she was heading downtown to give away some of her amazing cupcakes to people who came out for #supportYVRfoodcarts!
This was all the second wind we needed. We marched on, in search of the 4th stop on our tour de foodcart, Soho Road Tandoori Kebab.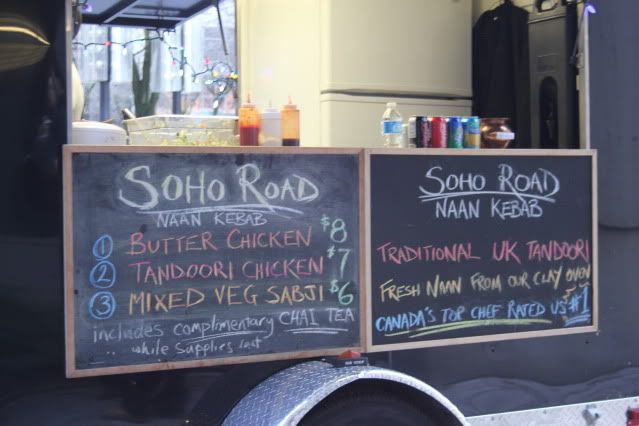 I was totally impressed that this cart had an actual tandoor oven onboard! They were even kind of to let us come around and take some pictures of it in action as they made fresh naan bread to order for each of us.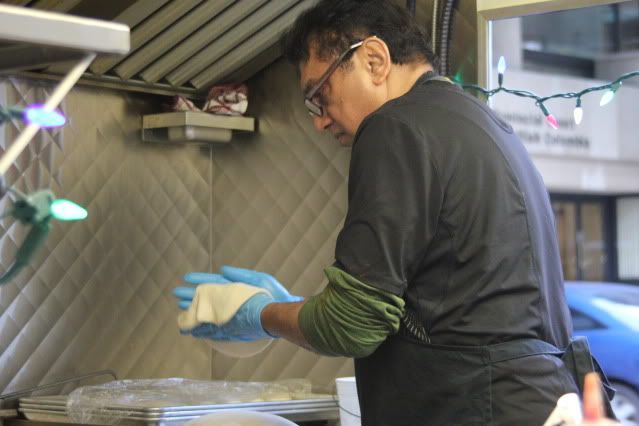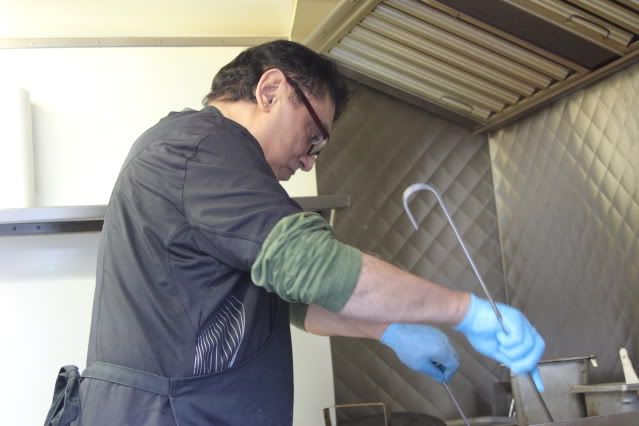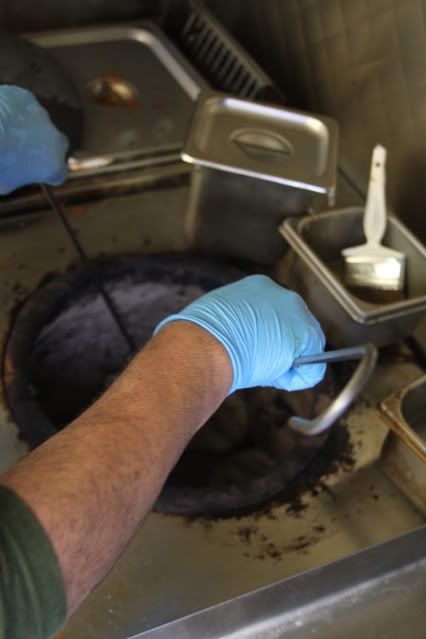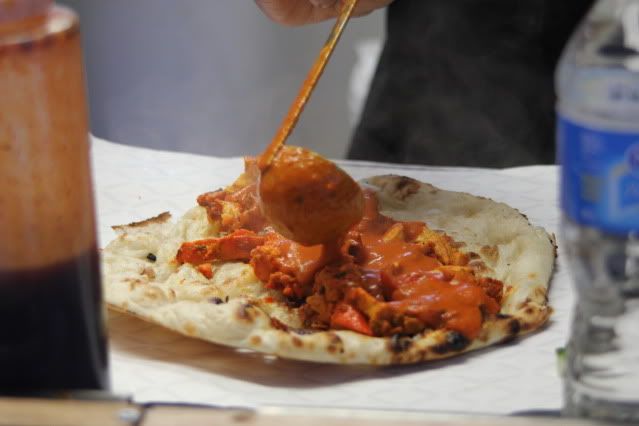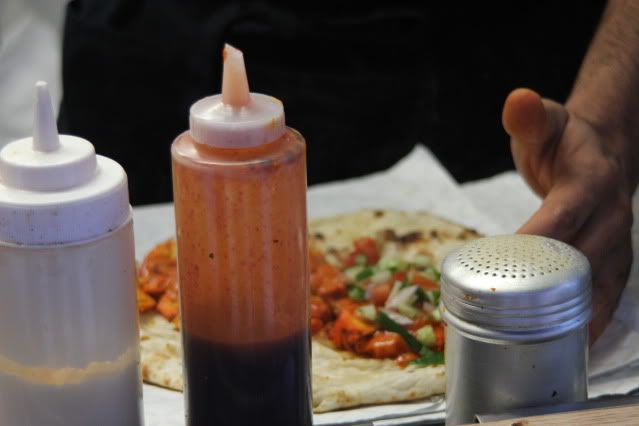 Best of all, we were given some complimentary chai tea while we waited, which was delicious. (PS I have difficulty smiling normally for pictures, I'm working on it.)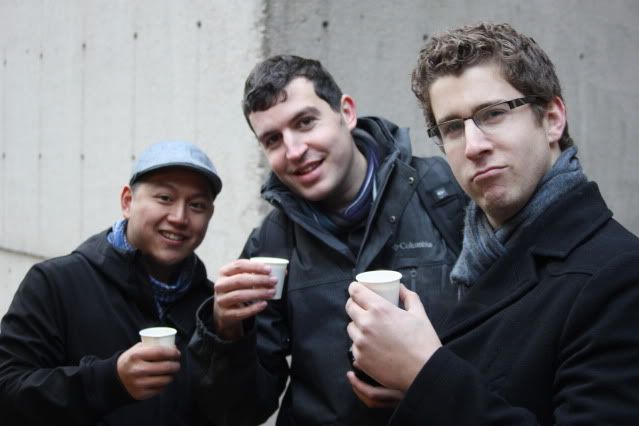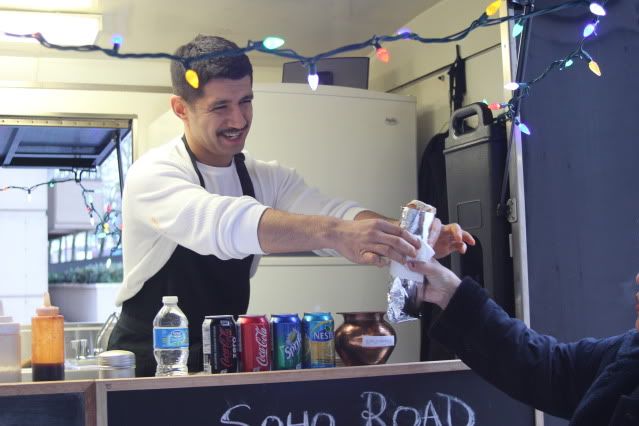 No sooner did we get our wraps, but look who showed up 😉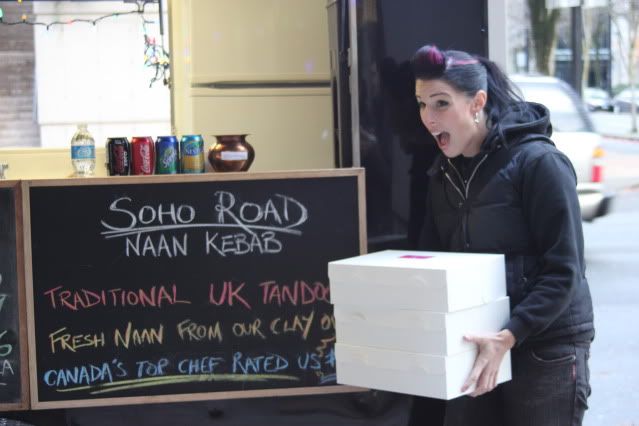 She immediately began tweeting that the next person to come and order from Soho Road and retweet got a free box of mini-cupcakes, and it took a grand total of about 45 seconds for someone to come and claim it!
After chowing down on this insanely delicious, flavourful butter chicken and naan wrap from Soho Road, I could eat no more, though luckily, many, many more supporters continued to chow down all day, with some of the vendors completely selling out due to overwhelming demand. We couldn't be happier with how #supportYVRfoodcarts turned out, and we sincerely hope that those who tried these carts for the first time on Friday, will continue to return to these great vendors again. The quality of food on our streets is amazing, go eat it!
From Drew Cooks! and Cake Tease, stay classy Vancouver!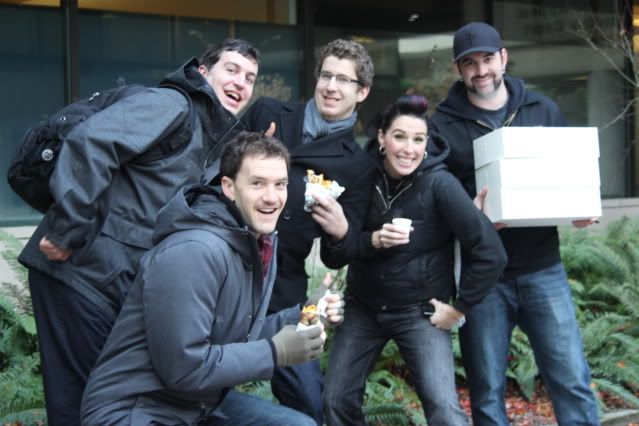 Photography by Carmond Ng